Pool and Spa Designs
Trust Unique Pools in the Bay Area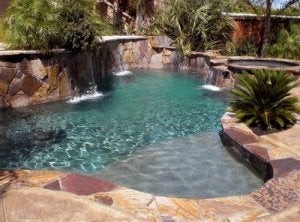 Designing and installing a pool and spa can be a difficult task. It is important to choose a company that places an emphasis on customer service and has years of experience along with numerous satisfied customers. That is our company, Unique Pools. We are excited to provide you with state-of-the-art designs and equipment, as well as a team that works tirelessly until the job gets done right. We are with you every step of the way, from choosing a design and shape to fit your backyard to the building process and enjoyment of the final product.
When we design and install pools and spas, we strive for the highest level of both functionality and aesthetics. We make sure to take all essential factors into careful consideration, such as your building material options, pool heating options, opportunities for energy conservation (such as through solar equipment), options for additional features (i.e. waterfalls), spa jet system options, etc. With more than a decade of experience behind us, you can count on us for excellent pool design and installation services!
We can create the following types of pools:
Black bottom pools—These types of pools have dark bottom surfaces, which can help differentiate the look of your pool and possibly aid with pool heating. Black bottom pools are known for absorbing heat and radiation better than lighter pools, which could possibly lead to energy savings.
Infinity pools—Infinity pools are constructed in a way so that the edge of the pool appears to blend or vanish into the horizon. This design is particularly stunning when the pool's backdrop is a view of the ocean or other beautiful natural scenery. The visual effect of the vanishing edge is created by making the edge slightly lower than the level of the pool water, which results in water flowing over the edge into a catch basin.
Geometric pools—If you want to get more creative with your pool and stray away from the basic rectangular or oval shape, you may want to go with a geometric pool. These pools typically incorporate interesting shapes, arcs, angles and edges that can create a more modern look.
Freeform pools—A freeform pool has curved perimeter rather than a straight-edged perimeter. These pools are "free-form" because they do not appear to have a set shape. These types of pools can create a more natural feel, which is why they are often combined with features such as rocks and waterfalls.
Solar pools—Do you want to conserve energy and reduce your energy bills? If so, you may want to consider installing a solar pool heating system. This type of system uses solar panels and other equipment to capture energy from the sun and transfer it to the pool water. This heating option is cost-effect and better for the environment!
Here at Unique Pools, we take great pleasure in providing our customers with beautifully designed and installed pools and spas that make their backyards more beautiful than ever. Our services give people of all ages fun and memorable activities for years to come. Call us today at 925-513-3800 to set up an appointment.
Before and After Unique Pools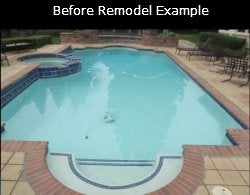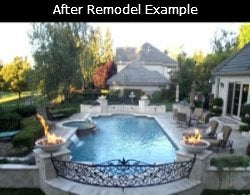 Why Choose Unique Pools
Custom Design & Installation
Sleek & Modern Designs
Fully Integrated with Lush Landscaping
Energy Efficient Pool Equipment including Solar
Excellent Customer Service
Seamless Project Execution
Locally Owned & Operated Since 2002